Witam Czy moduł export produktów pro będzie w stanie wyeksportować ilości wszystkich produktów na stanie wraz z ich kombinacjami, których czasami jest nawet 30. Z góry dzięki za odpowiedź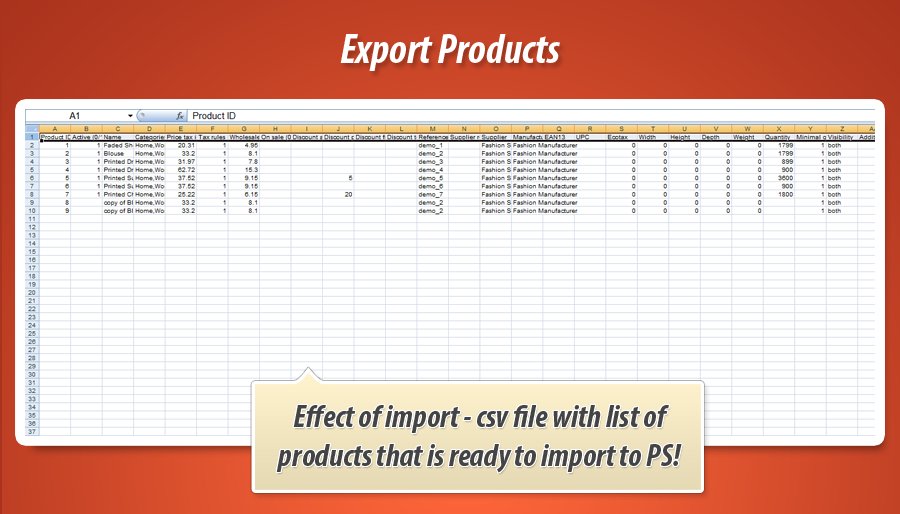 Duże ilości eksportowanie danych w module export products pro
Witam,
Eksport produktów oraz kombinacji odybwa się osobno tj.
tworzony jest osobny plik z samymi produktami i osobny plik z kombinacjami do tych produktów.
Proces eksportu jest podzielony bowiem narzędzie do importowania w prestashop pozwala na import tych danych osobno, tj. najpierw importujemy produkty a następnie kombinacje.
Wspominam o tym w kontekście ewentualnego problemu, który może być związanych z ustawieniami hostingu.
Jeżeli tylko ustawienia Pana hostingu pozwolą np. na wykonywanie skryptu przez około minutę (z doświadczenia wiem, że przy katalogu wielkości ~30000 produktów zwykle zajmuje to około 60 sek) to eksport wykonany zostanie poprawnie. Jedynym ogranicznikiem są tutaj wydajnościowe parametry hostingu, zwłaszcza w aspekcie ograniczeń (wydajnościowych (np. zużycie ramu, cpu, czas wykonywania skryptu). Dlatego też podział na dwa typy eksportu (osobno produkty / osobno kombinacje) pozwala znacznie ograniczyć wykorzystywanie dostępnych zasobów.
Dodatkowo, eksport można podzielić na części
- np. eksport według kategorii (wtedy wyeksportujemy dane dla danych kategorii co również ogranicza wykorzystanie zasobów)
- jeżeli tylko środowisko na którym pracuje Pana sklep pozwoli - produkty . kombinacje mogą być wyeksportowane jednorazowo do jednego pliku bez problemu
- jeżeli natomiast hosting posiada ograniczenia wydajnościowe - wówczas pozostaje eksport partiami, w efekcie uzyska Pan kilka plików .csv z pogrupowanymi produktami np. według kategorii, producenta czy dostawcy
pozdrawiam,
Miłosz