We are migrating today but we have trouble with import,
Our current PrestaShop version : 1.7.0.1
We want latest official version for major channel. : 1.7.4.2
My question is : do your module
is working good with 100% everything like attributes ?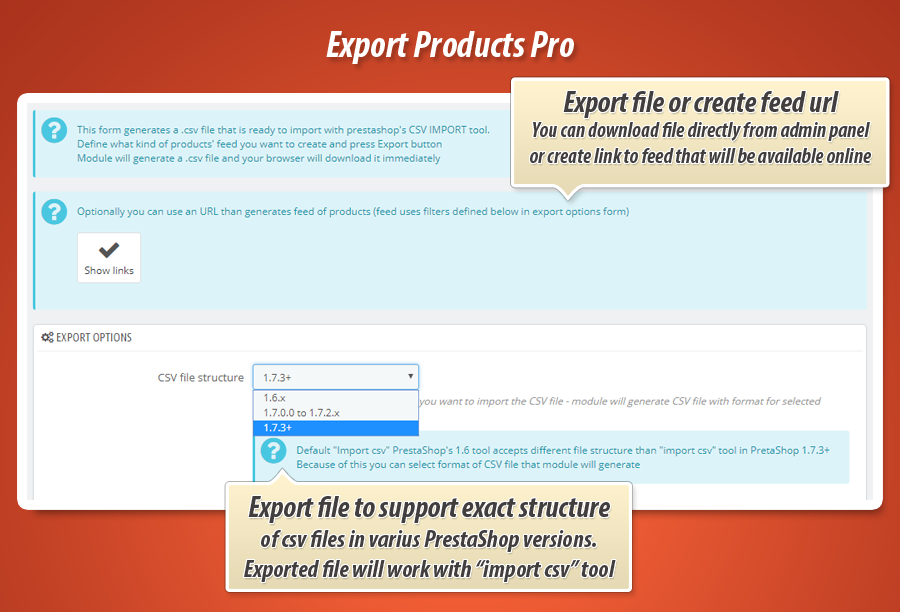 Export products' catalog from 1.7.0.1 to 1.7.4.2
Hello
Welcome after weekend.
Ii can generate csv files with whole products catalog:
- products
- combinations
- categories
It allows to export csv file with structure that is ready to "import" with prestashop's default "CSV IMPORT" tool. During export you can select target version of prestashop (version where you want import products):
PrestaShop 1.5.x - 1.6.x

PrestaShop 1.7.0.0 - 1.7.2.x

PrestaShop 1.7.3.x - current (1.7.4.2)
So, if you want to export products to prestashop 1.7.4.2 you can select option to export products in PrestaShop 1.7.3.x - 1.7.4.2 format. Files will be compatible with your new PrestaShop version and you will be able to use these files in "IMPORT CSV" tool.
best regards,
milos