Minimalna ilość produktu niezbędna do złożenia zamówienia - problem
Witam serdecznie, mam problem z modułem minimalnej ilości produktów
Mam kilka grup w sklepie, w jednej z grup przypisuje wartość minimalną na 1 sztukę. Od strony klienta, przy kliknięciu w kup dostaję komunikat, że wartość minimalna to 1 w okienku modalnym... (użytkownik należy do grupy, która ma prawo kupowania od 1 sztuki) ... po zwróconym błędzie produkt dodawany jest do koszyka... proszę o informacje jak rozwiązać ten problem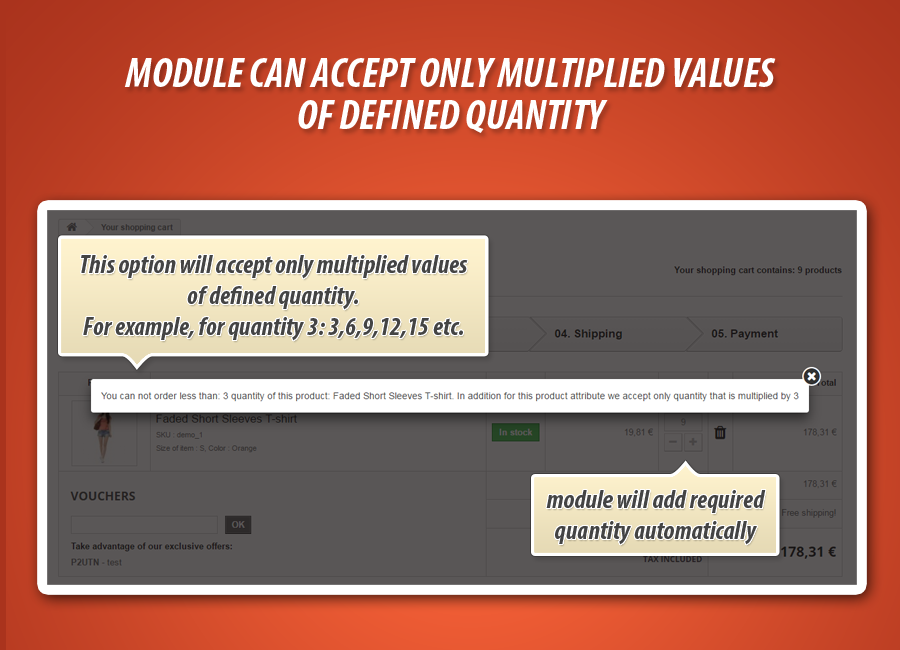 Odpowiedź w sprawie problemu z minimalną ilością produktu
Witam,
Problem był zidentyfikowany kilka tygodni temu, krótko go opiszę i przedstawię rozwiązanie.
Otóż, jeżeli klient powiązany jest z kilkoma grupami z ustawionym limitem, wówczas klient będzie musiał zamówić taką ilość produktu, jaka jest równa najwyższej zdefiniowanej ilości dla grup, w której znajduje się klient. Przykładowo, klient powiązany jest z grupami "A", "B", "C" oraz "VIP"
Dla produktu ustaliliśmy następujące minima:
"A" - 5
"B" - 6
"C" - 8
"VIP" - 1
Z uwagi na fakt, że klient powiązany jest z grupą C i że jest to najwyższa wartość to taką ilość produktu klient będzie musiał dodać do koszyka.
To w czym tkwi problem to:
- moduł w wersji 1.3.8 (taką Pan posiada w sklepie) posiada błąd, który:
a) pobiera najniższą wartość minimum i taką ustawia w koszyku
b) wyświetla popup jeżeli nie został spełniony warunek dla najwyższej wartości
W efekcie mamy mix warunków, popup wyświetla się prawidłowo gdy nie dodamy mniejszej ilości niż "8" (bazując na opisanym przykładzie) ale już jego treść odpowiada wartości najniższej "1".
Rozwiązanie problemu
W tym celu proszę zaktualizować moduł minimalnej ilości produktów do wersji 1.4.1 (aktualna wersja).
list zmian:
1.4.1
- added fixes to displaying message with information about not enough quantity if customer is associated with several groups with minimal quantity values
1.4.0
- added new feature to define possibility to order a single quantity of product even with minimal quantity rules (great option if you want to allow to order "a sample of")
- added feature to display informations about defined minimal quantity rules below "add to cart" button on product page
1.3.9
- added missed translations