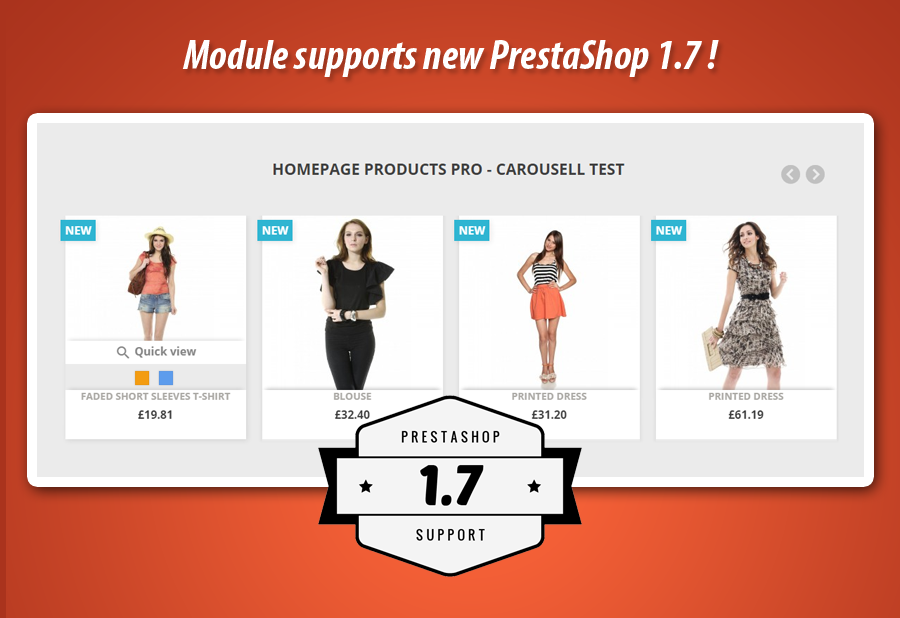 Pytanie
Cześć,
Mam pytanie dot. modułu: "Prestashop Produkty Na Stronie Głównej PRO"
Nie jestem pewien czy jesli korzystam z niestandardowego szablonu to wszystko zadziała poprawnie, tzn. czy produkty będą wyświetlać się w taki sposób jak aktualnie na stronie głównej.
Mam bloki z nowościami, obniżkami itp. jednak chciałbym zamieścić jeszcze blok z przykładowymi produktami z danej kategorii.
Do tego ten moduł wydaje się byc idealny, ale obawiam się, że sposób w jaki elementy bedą wyświetlane nie będzie zbieżny z designem mojego szablonu.
Czy moje obawy są bezpodstawne i wszystko zadziała poprawnie?
Pozdrawiam,
Odpowiedź specjalisty
Witam,
moduł do tworzenia listy produktów wykorzystuje (w zależności od przyjętych ustawień)
1) pliki szablonu
Wówczas moduł buduje listę produktów w oparciu o plik szablonu z którego aktualnie Pan korzysta. Oznacza to, że lista produktów będzie wyglądać tak jak wygląda lista produktów w szablonie np. w kategoriach
2) własny plik modułu
Wówczas lista produktów nie będzie wyglądac jak listy produktów w szablonie. Jest to własny unikalny wygląd zaimplementowany w module.
Wybór opcji 1 powoduje, że wizualnie moduł nie różni się od list produktów w sklepie. Jeżeli tylko szalon pozwala budować w taki sposób listy produktów - wówczas wszystko będzie ok.
Może to Pan zweryfikować instalując darmową wersję modułu:
https://mypresta.eu/modules/front-office-features/featured-products.html
pozdrawiam,
Miłosz