We've bought today Mass assign / move products to categories module, but there is not working defined product search. I insert first letters of product name, but nothing happen. We've tested module in two shops, the result was the same. Can you send us correctly working module or maybe we need some additional configuration?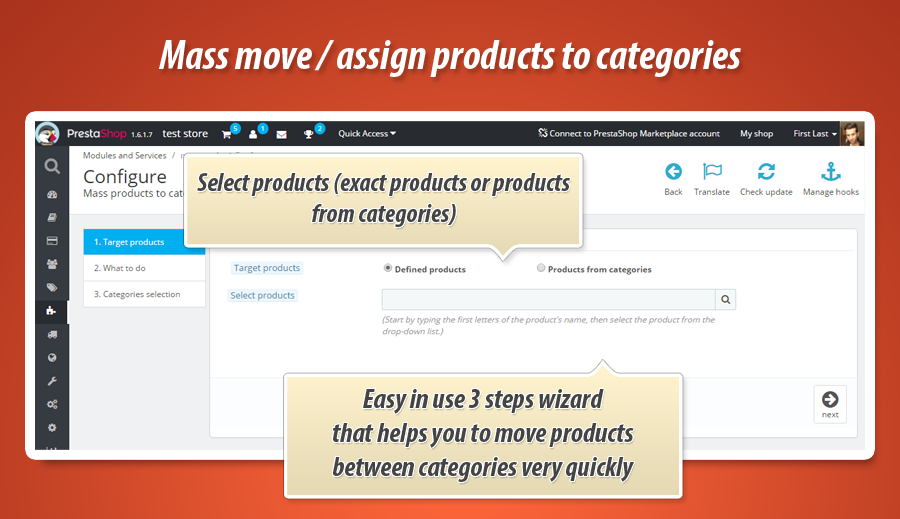 Hello
There are 4 possibilities, most common one is related to the url you used to the shop. Please focus on it. description below:
url used to log in to shop back office


Some parts of prestashop back office requires to use proper url while we are using it.
Lets say your shop address is: https://mypresta.eu/ and if you will use https://www.mypresta.eu/admin/ or http://mypresta.eu/admin/ to log in to shop back office - prestashop can generate some issues. Each domain address i mentioned is different. From technical point of view domain with www and without are not the same domains. The same urls with http:// or https://. While you log in to shop with wrong domain you should see this kind of information:
- http://i.imgur.com/X1Soqov.png
- http://i.imgur.com/Zcq4u5r.png


solution:

use proper domain address, only then your back office will work properly


maintenance mode


If your shop works in "maintenance mode", there is a chance that some parts of shop may not work properly if your ip will not be added to the list of accepted ip addresses.


solution:

add your ip address to accepted ip addresses (maintenance mode settings)


version of module you use


module is available in two versions, one dedicated for PrestaShop 1.6/1.5 second for PrestaShop 1.7.x
version dedicated for prestashop 1.6 will not work in prestashop 1.7 and opposite.


solution

: please make sure that you use module dedicated for your shop version


no product index


Module to search products uses "search" tool available in prestashop. Please verify if your shop's products index have products under advanced settings > search.